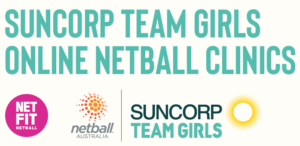 NETFIT
In partnership with Netball Australia, NETFIT are delivering free online netball workouts and programs. sessions. This collaboration gives all netball communities free access to live online workouts delivered by elite netballers, as well as health, fitness, nutrition and wellbeing sessions until the end of April.  To register (free), go to https://netfitnetball.com.au/netfit-clinic/

The Netball Australia – Knee Program
https://knee.netball.com.au/
Knees and ankles are the most commonly injured body parts of netballers and most of these injuries occur when landing. Injury to one of the major stabilisers of the knee, the Anterior Cruciate Ligament (ACL), is a common problem, annually representing approximately 25% of serious injuries (Netball Australia National Insurance Data).
Netball Australia's KNEE Program is designed to prevent these injuries occurring. It is designed to keep your players on the court for longer and moving more efficiently when there.
As an athlete this program aims to keep you playing the sport you love without being sidelined by injury.

MyNetball
Browse the courses available, there are several excellent (and free) courses available. Just browse the catalogue and complete as many courses as you like.
http://my.netball.com.au/