WDNA believes, to run successful competitions and activities we need to ensure we: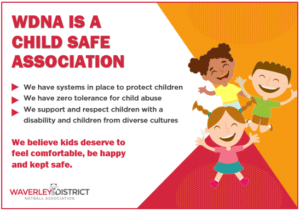 are a netball safe environment
contribute to the health and well-being of our whole community.
provide fun and enjoyable competitions and activities
live by our seven values: – inclusive, integrity, health & wellbeing, fun, sportsmanship, teamwork, and development
The safety of our children and young people is particularly important. And everyone has a part to play in this.
WDNA commits to providing a safe environment for children in netball and follows the principles and benchmarks Netball Victoria has in place.
It is important that you are aware that, all organisations that offer services to children are required by law to implement the Child Safe Standards.  This includes all clubs and teams associated with WDNA. We must all follow the steps below to ensure you meet your obligations in keeping children safe.
| | |
| --- | --- |
| Step 1 | Bring together people in your community to join your Child Safe working group or sub-committee. |
| Step 2 | Become familiar with the Child Protection Commitment Statement, Child Safety in Netball Policy and the Child Safety in Netball Code of Conduct. All on the Netball Victoria website here Child Safety in Netball​. |
| Step 3 | Download and complete the Club Review Template. ​​This will highlight areas you are doing well and areas you may need to concentrate on. |
| Step 4 | Download the Child Safety Risk Management Template, this will help identify your risks. |
| Step 5 | Download the Action Plan Template to record your action items and outline roles, responsibilities and timelines. |
| Step 6 | Download, amend and print Posters to display around your clubs, on your website and social sites. |

Creating a Child Safe Netball Community

WDNA presented this session to bring awareness to child safety and to review what your legal obligations are in creating environments safe for our children. Click here to watch.
Play by the Rules – Child Protection Course
WDNA requires all club officials, including coaches, umpires and any other people in positions of authority within your clubs to complete the free Play by the Rules Child Protection course.  The course takes about 60 minutes to complete, it is an interactive online training course suitable for all your coaches, administrators, officials, players, parents and spectators.  We highly recommend and encourage your Team Managers and parents to also complete the course.
Confirmation of completion (and date) will be required with team entries each season.