WDNA offers to Clubs opportunity to raise funds by holding a sausage sizzle at the Saturday competition.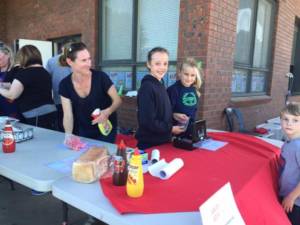 WDNA supply the following equipment needed for sausage sizzles:
• BBQ
• Trestle tables
• A large esky
Clubs need to supply their own:
• Gas Bottle
• Meat, Bread, other food items, condiments
• Aprons, cooking utensils, gloves, serviettes etc
The Club holding the sausage sizzle is responsible for cleaning the BBQ
and trestle tables at the end of the day and putting away.
Cost: $70 per sausage sizzle – $70 must be deposited into WNDA bank account within 7 days of booking. Deposits can be made to Waverley District Netball Association BSB 63300 Account 140383902. Please include Club name and BBQ in deposit description.
Please note;
· Our representative teams hold more than one sausage sizzle per season
· Short notice cancellations are offered to the Representative teams first
Prior to booking into a Sausage Sizzle make sure you read the Fundraising Sausage Sizzle Policy carefully.
Information about holding a fundraising sausage sizzle is sent to all clubs that attend the WDNA clean up day at the beginning of the year prior to Winter Season.