JUNIOR SKILLS CLINICS
We run a number of skills clinics across the year. These are great if you interested in improving your game, fitness and footwork, or interested in trialling for rep. These clinics can help you understand and develop the skills you may need to trial for the 13/u representative teams.
We will list clinics here as they come available. Also check our social pages for any clinics run independently which we advertise from time to time.
JUNE / JULY SCHOOL HOLIDAY CLINIC
WDNA are excited to be back on court in 2021 and running netball clinics for our local netball community. Join us for a full day of netball and fun for netballers or aspiring netballers aged 7 years – 13 years old, boys and girls welcome.
Wednesday 30th June
9am-3pm
Oakleigh Recreation Centre
&
Thursday 1st July
9am-3pm
Oakleigh Recreation Centre
Limited spaces available!
BOOK NOW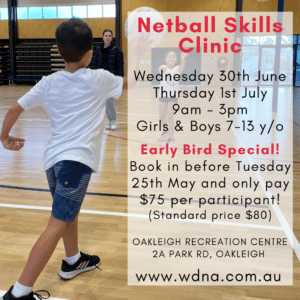 –
Please check back to this page regularly and and follow our instagram and facebook
pages for information and bookings on upcoming clinics.